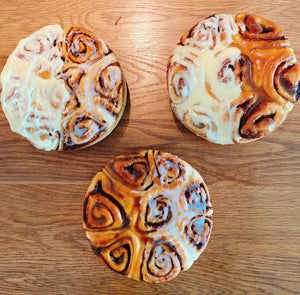 Say hello to Duo Flavor cinnamon rolls - you can now have the best of both worlds of Cream Cheese Frosting, Glaze icing,  Pink Himalayan Salted Caramel, Peanut Butter on the same 10 or 7 inch cinnamon roll.  Yes, all of these flavors are reduced sugar too!

In addition to the above combinations, triple choc and choc peanut butter duo flavor makes debut for all chocolate lovers.  Due to a different base, choc flavor can't be combined with the rest of the flavors.


Flavors Introduction:

Glaze Icing is the original cinnamon rolls that everyone likes.  Simple enough to bring out the aromatic cinnamon spice which everyone loves.
Cream Cheese is the second flavor that I pushed out after seeing strong traction with the original glaze. The cream cheese has the perfect harmony between the tart flavor from lemons, sweetness from sugar, and richness from butter.
Salted Caramel is the best seller which won the heart of the writers in 8 Day.  It has the perfect balance of two strong flavor profiles simply because caramel mixed with salt is not only delicious but also satisfying.  Combined with the cinnamon spice, it is a marriage made in heaven.
Peanut Butter follows the footstep of Salted Caramel, showcasing the perfect balance of two strong flavors of sweet and salty profiles, where a subtle sprinkle of Himalayan Salt over a not-too-sweet peanut butter base stimulates the taste buds and create a pleasurable experience. 
Ingredients:
The base:
Wholewheat flour, all purpose flour, milk, cinnamon spice, butter, sugar, yeast and salt

Glaze
Icing sugar, milk, sea salt

Cream Cheese
Cream cheese, icing sugar, lemon juice,  vanilla essence, sea salt

Salted Caramel
Double cream, butter, sugar, pink Himalayan salt,

Peanut Butter
Homemade peanut butter, cream cheese, butter, roasted peanut, icing sugar, pink Himalayan salt

Chocolate
Cocoa powder, icing sugar, milk , vanilla essence

Size:
10" pan with 12-15 rolls
7" pan with  6 -8 rolls
Order lead time:
Average 3 days in advance.  Up to one month lead time during festivities. Please check with us for any specific date.
Delivery / Pick up :
$12 islandwide; additional surcharge of $5 for Sentosa and Jurong & Tuas area.
Self pick up at Jalan Sempadan (Siglap) from 10am - 12noon.  Mon - Sat.  Sun and PH are closed.