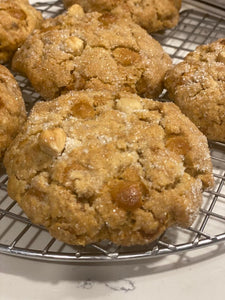 Introducing our Egg-Free, Gluten-Free Sweet and Salty Butterscotch and Hazelnut Jumbo Cookie - Reduced Sugar for guilt-free indulgence!
Sensational Butterscotch Delight: Prepare for a symphony of sweet and salty flavors in every bite of our Butterscotch and Hazelnut Jumbo Cookie. Rich butterscotch lends a luscious sweetness, while a pinch of salt adds an irresistible contrast that keeps you coming back for more.
Crunchy Hazelnut Magic: Every mouthful is a textural wonderland with the delightful crunch of hazelnuts. These buttery, slightly sweet nuts elevate the cookie, providing a sensory experience that complements the sweet and salty notes beautifully.
Dietary-Friendly Wonder: Our Sweet and Salty Butterscotch and Hazelnut Cookie is a delight for all. It's egg-free and gluten-free, making it accessible to a wide range of dietary preferences. Plus, we've dialed down the sugar, so you can indulge without the guilt.
For those who appreciate the perfect balance of sweet and salty, along with the captivating crunch of hazelnuts, this cookie is your next taste adventure. Order yours today and experience the magic for yourself.
Other flavors on offer:
Dark Choco and Cranberries

Miso White Choc Macadamia 

Elevated Peanut Butter
Ingredients (Butterscotch Hazelnut ): Rice flour, potato starch, cornstarch, xanthan gum, Belgium butterscotch choc chips, hazelnuts, butter, muscovado sugar, white sugar,  baking powder, baking soda, sea salt.
Weight:
80gm per cookie (plus minus 5gm)
Order lead time:
Average 1 day in advance.  Up to a month during festivities.
Delivery / Pick up :
$12 islandwide; additional surcharge of $5 for Sentosa and Jurong & Tuas area.
Self pick up at Jalan Sempadan (Siglap) from 10am - 12noon.  Mon - Sat.  Sun and PH are closed.